Valley Pet Care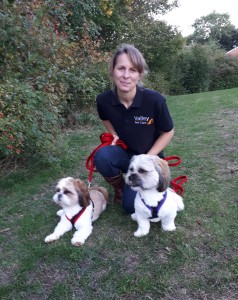 A family business based in our home town of Stocksbridge. We offer dog walking and pet sitting in Stocksbridge, Deepcar, Ewden and Bolsterstone. We are proud to offer our services to the local community. We love our home town and the people (and animals of course) in it.

We pride ourselves on delighting both two legged and four legged customers alike. Our flexible dog walks and pet sitting services focus on keeping your dog safe and having fun. We are always teaching dogs, working them, allowing them to fulfil their need to run, play, sniff and, well; be a dog.
The VPC Team

Kelly Jackson
I have enjoyed the challenge of rescuing and rehabilitating dogs, cats and other animals over the years and loved every minute of it. I feel privileged to spend time and bond with my customer's pets and love meeting new friends, whether dogs, cats or other pets.

My background
Growing up animal mad, I have always had pets, from horses to hamsters, animals have and always will be a big part of my life. I now enjoy dedicating my time to my client's pets, swapping my marketing career for bracing walks and waggie tails.

My promise
I promise to treat your pet as I would my own, with patience, love and empathy. Keeping your pets safe and happy in your absence is a privilege I don't take lightly, I take great pride in keeping both human and animal customers happy with my services.

Brett Jackson
Calm, assertive and patient, Brett seems to click with every animal we have the pleasure of spending time with. His patient handling has helped some of the trickier cases where a kind and calm manner wins the trust and confidence of our fury friends.
Brett's background
A trained IT specialist, Brett enjoys getting away from the screen and into the fresh air to play with the VPC pack.